Get free children's books every month! If you have a child ages 0-5, they can receive a free monthly picture book sent directly to your home through the Dolly Parton Imagination Library. To register go to imaginationlibrary.com/usa/affiliate/CACOLFAX/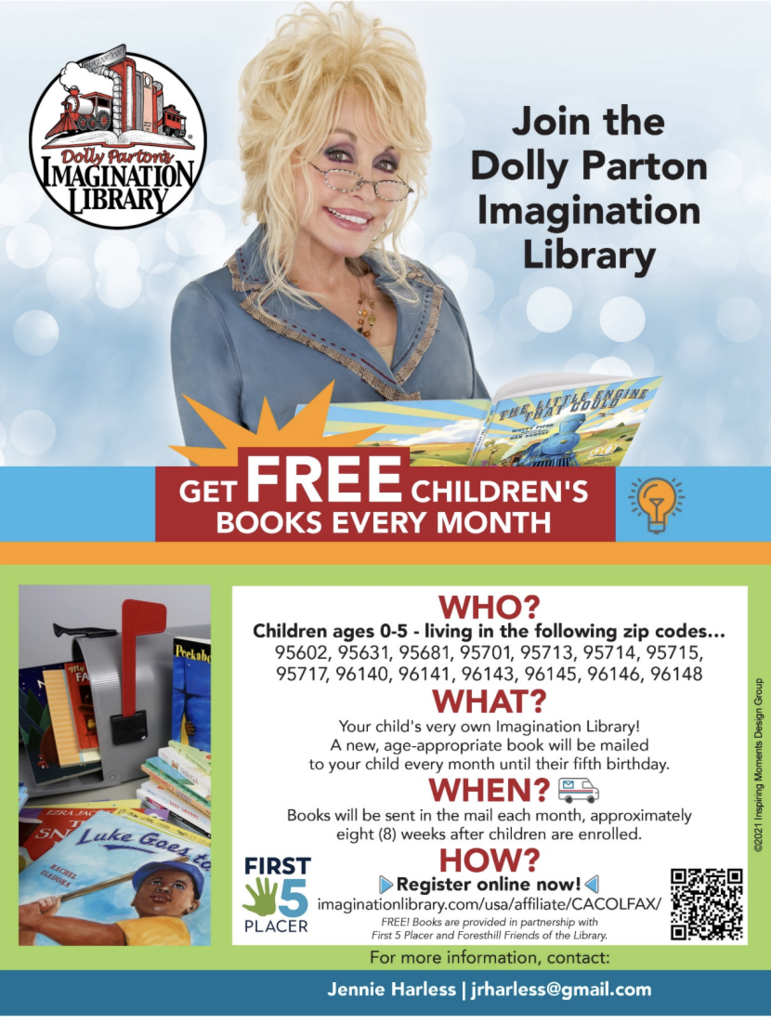 Dear Families, We want to thank everyone for your patience today. Our top priority is always the safety of our students and staff. Thank you to our fabulous staff for always keeping our students safe and cared for. Tomorrow, school will resume as usual with all after-school programs going as normal. Arrive as early as 7:30 a.m., and dismissal is at 2:30 p.m. See you tomorrow!

Dear Families, We would also like everyone to know that the buses are running as usual, and after-school care is also being canceled for this afternoon. Please come to the school at 2:30 to pick up your child for today. Tomorrow, we will resume with all activities as usual. Thank you for your patience. If you have any questions, please contact our school office at (530) 346-2202.

Dear Families, Local law enforcement has determined it is safe for our students and staff to return to normal activities. Therefore, we have lifted the Shelter-in-Place and students are returning to usual activities. School will dismiss at 2:30 p.m. All after-school activities are canceled for the day. Thanks!

Dear Families of Colfax EL, Our students and staff continue to be safe at Colfax EL. We continue to keep in close contact with local law enforcement, and they continue to advise our school to remain in a Shelter in Place. Students and teachers are continuing to learn, and our administration is conducting escorted bathroom breaks. Thank you for continuing to be patient. We will continue to keep all families informed.
Happy 100th Day of School from the 1st graders!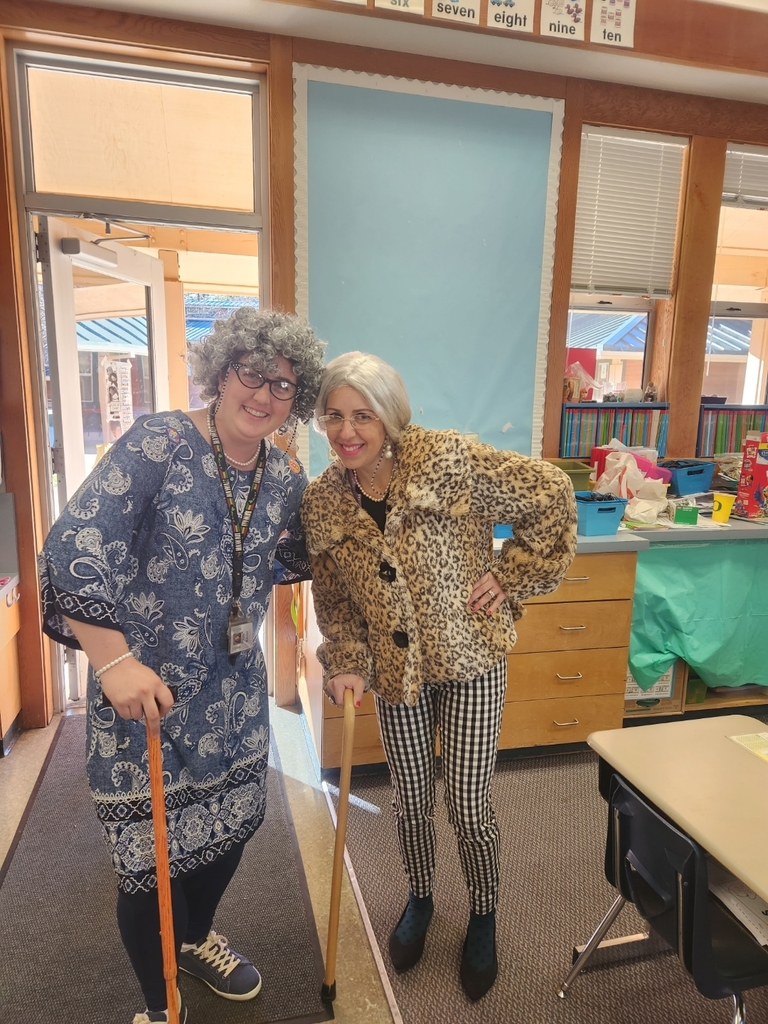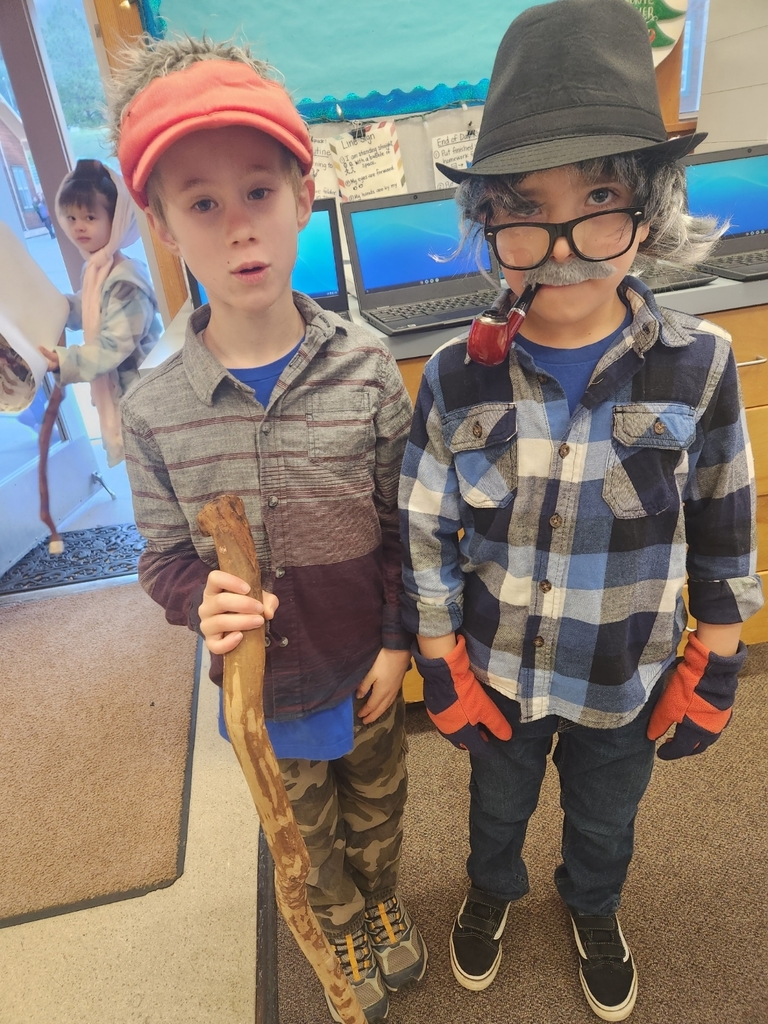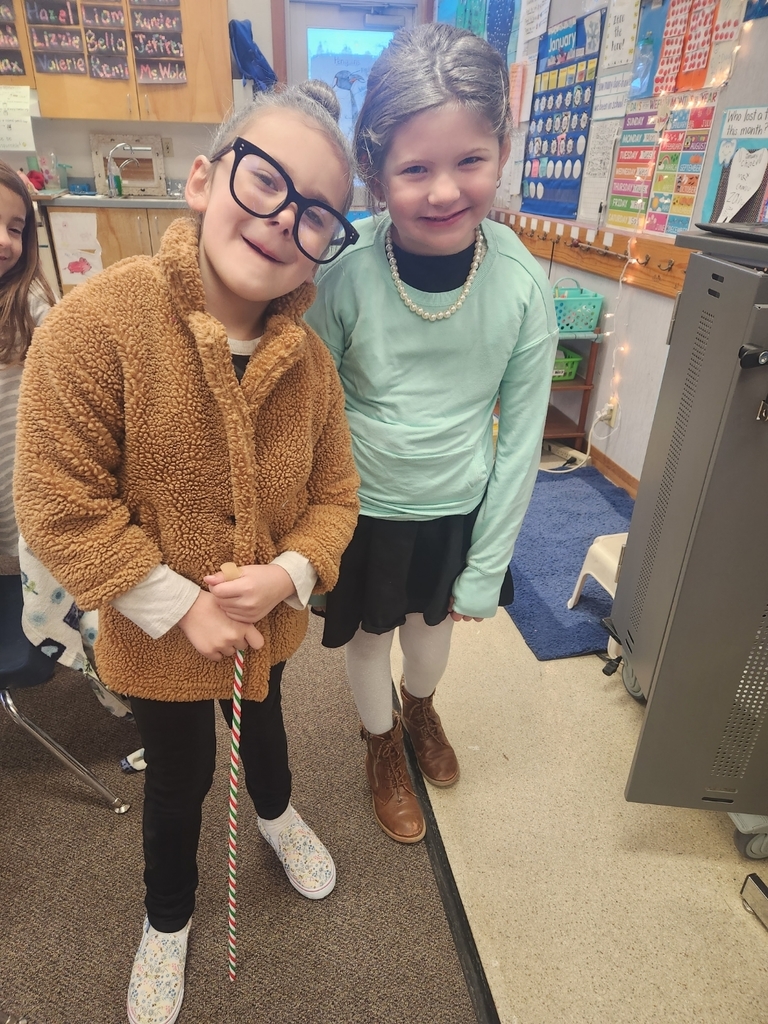 Congratulations to Mrs. Willes for being selected by the Auburn Journal as a Best of the Best Elementary Teacher for the 2022-2023 school year! Thank you, Mrs. Willes, for making your classroom an exciting and engaging learning environment every single day!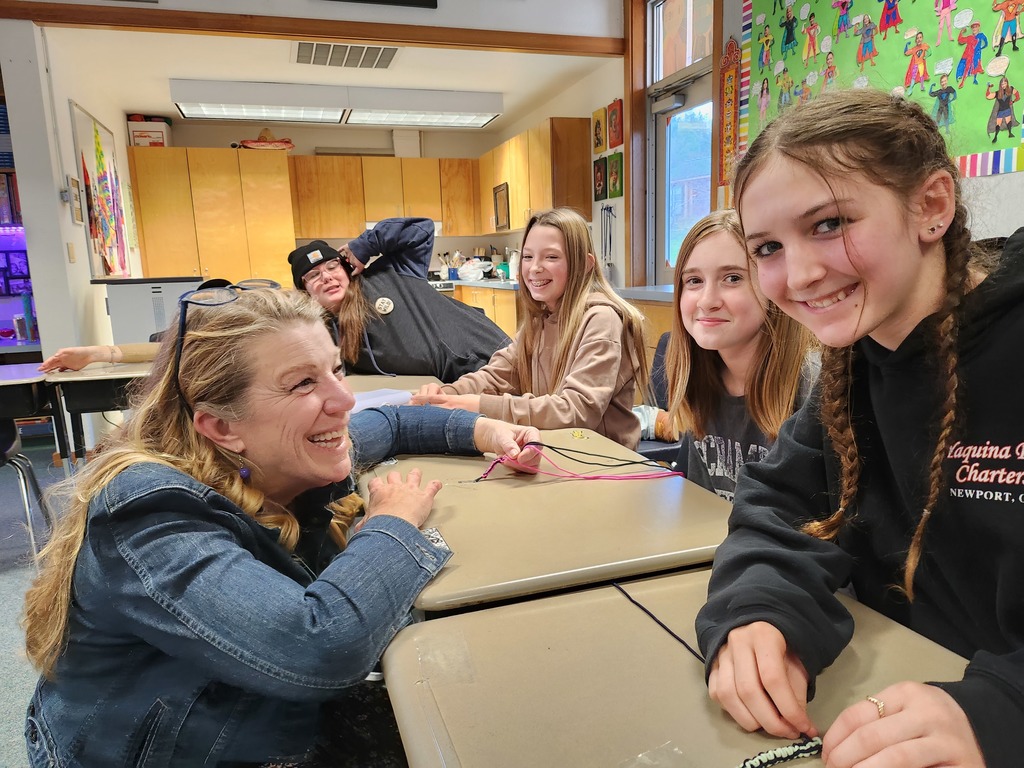 Come support our 8th grade students for the Bingo Night Fundraiser! Doors open at 5:30 p.m. at the Colfax Veteran's Hall, and games start at 6:15 p.m. $20 buy in, and all players must be 18 years old or older. See you there!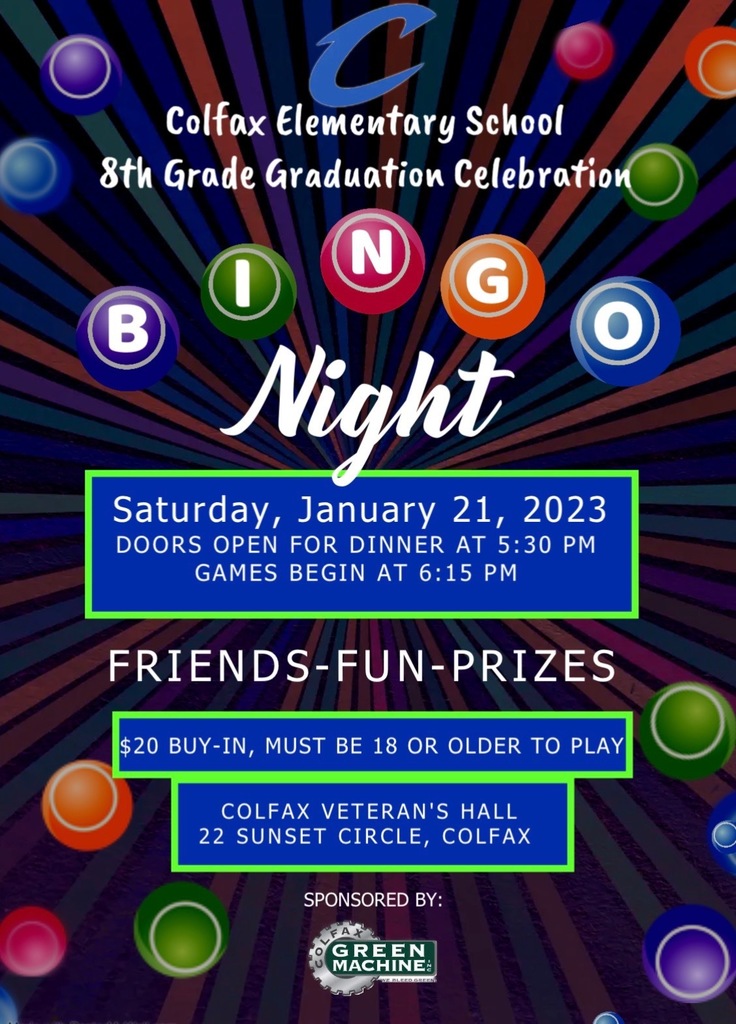 TK students are working hard (and having fun!) while counting with one-to-one correspondence!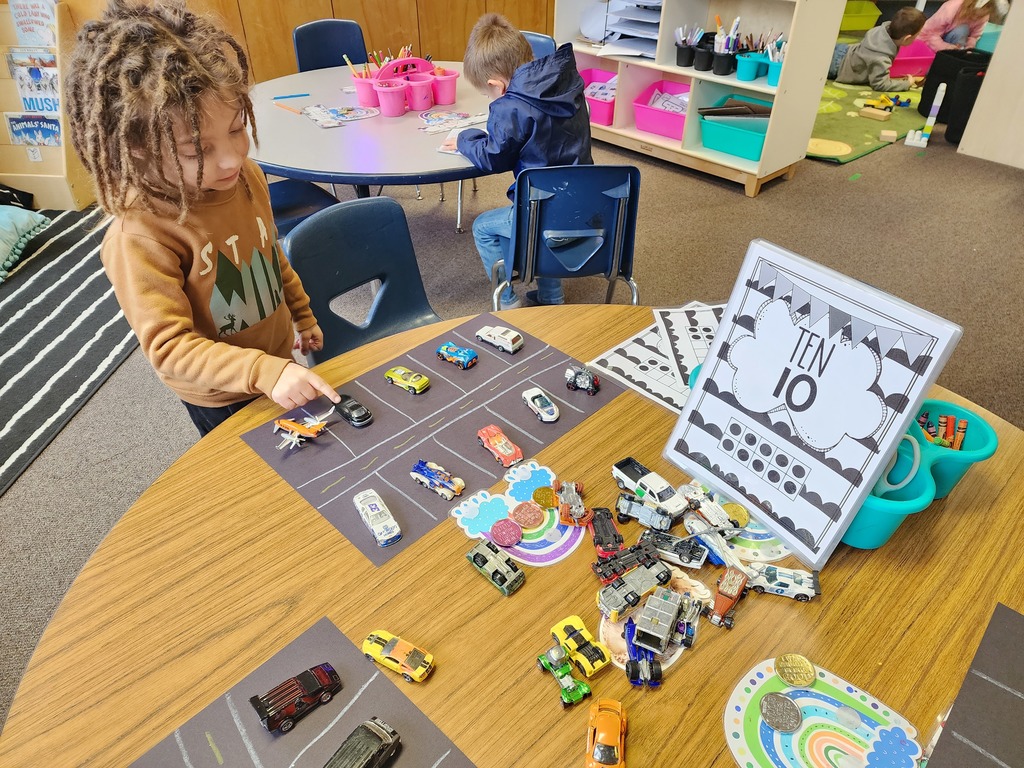 Several Colfax staff members participated in PBIS Tier 1 training today. An amazing team working hard to make Positive Behavior Intervention and Supports a reality at Colfax EL!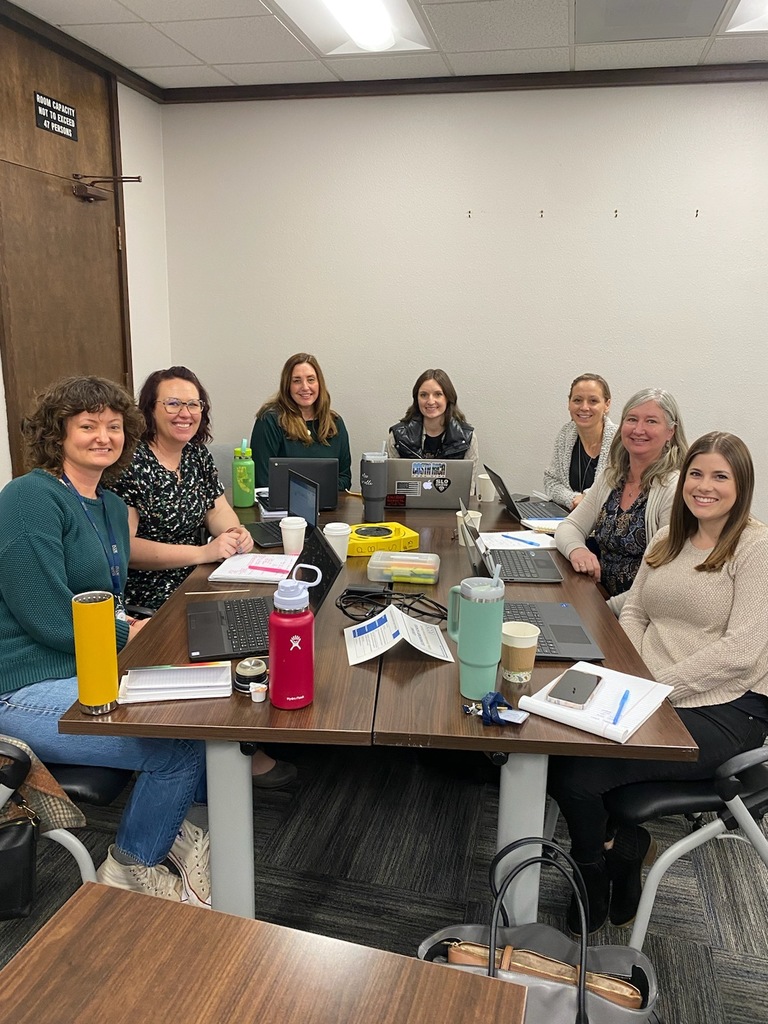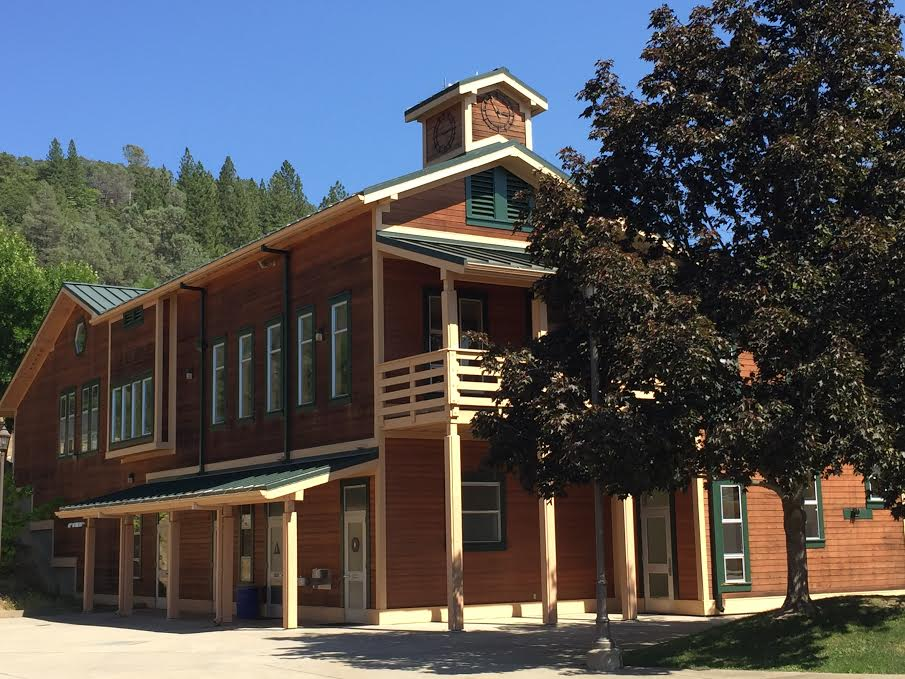 Hello Families of Colfax EL, I hope everyone is enjoying their Winter Break! Have a Happy Holidays and a great New Year! School will start again on Tuesday, January 3rd. See you then! Mr. Giannini Superintendent

Hello Colfax Families, As we head into the final week before Christmas break, we will continue to monitor the weather and temperatures for recess. A reminder that the See's Candies Fundraiser is still underway. We are raising funds for 6th-8th Grade Science Camp! Shop online here to help us reach our fundraising goals. This week is a Holiday Spirit week organized by our awesome Student Council. Monday - Plaid tidings we bring - Wear plaid Tuesday - Toasty Tuesday - Wear PJs to school Wednesday - Jing Bell Ballin' - Wear Favorite Sports Jersey Thursday - Candy Cane Cutie - Wear Red and White Friday - Sleighing like Rudolph - Wear Holiday attire Friday is also our Holiday Sing-A-Long in the gym at 8:15 am. Hope to see you there! Have a wonderful week, Bulldogs, and Happy Holidays! Annette Udall

December 17th is Wreath Day, and the Builders Club of CES is helping the Colfax Cemetery to Remember and Honor our veterans by laying Remembrance wreaths on the graves of our country's fallen heroes. There will be a small ceremony and wreaths will be placed at Colfax Cemetery at 9 am. All are welcome to attend. Wreath Sponsorship Form 2022 CA0491P.docx This is the link to the Wreaths Across America page for Colfax. Wreaths are $15 each and can be sponsored online using that link or the attached form. If you have questions or don't want to purchase online, please call or email Jessica Lomen at (530)305-5608 or
Jessicalomen@yahoo.com
. If you wish to have a sponsored wreath placed on a specific veteran's grave you can do so when purchasing online or contact Jessica with that information and wreaths will be placed accordingly. Wreaths must be purchased by November 29th.
https://www.wreathsacrossamerica.org/pages/160950/overview/?Sid=160950%7C160949%7C0%7C3
Thank you!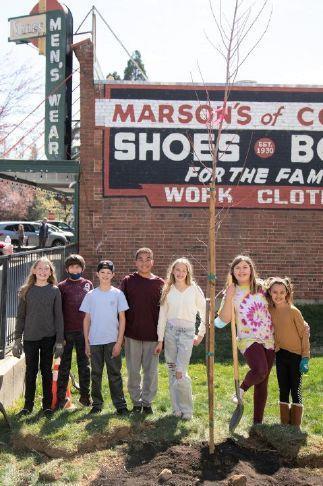 Hello Bulldog Families, Our 5th annual Spring Fling family Dance is this evening, April 29 from 5 to 8 p.m. in the Bulldog Gym. We are looking forward to see you this evening! - PTA

Classified Employee of the year, Kristi Parnham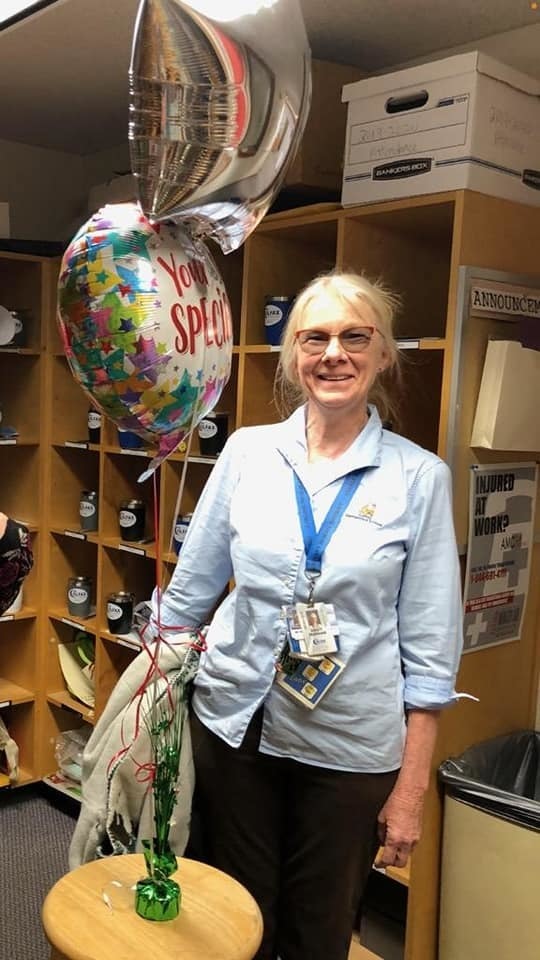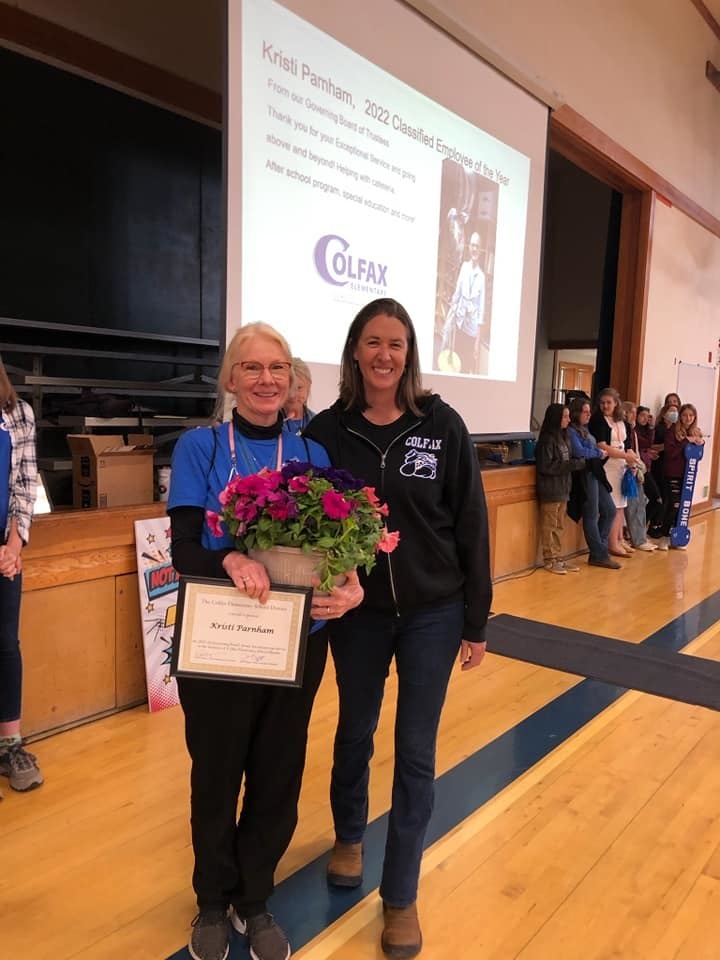 Colfax appreciates its amazing staff!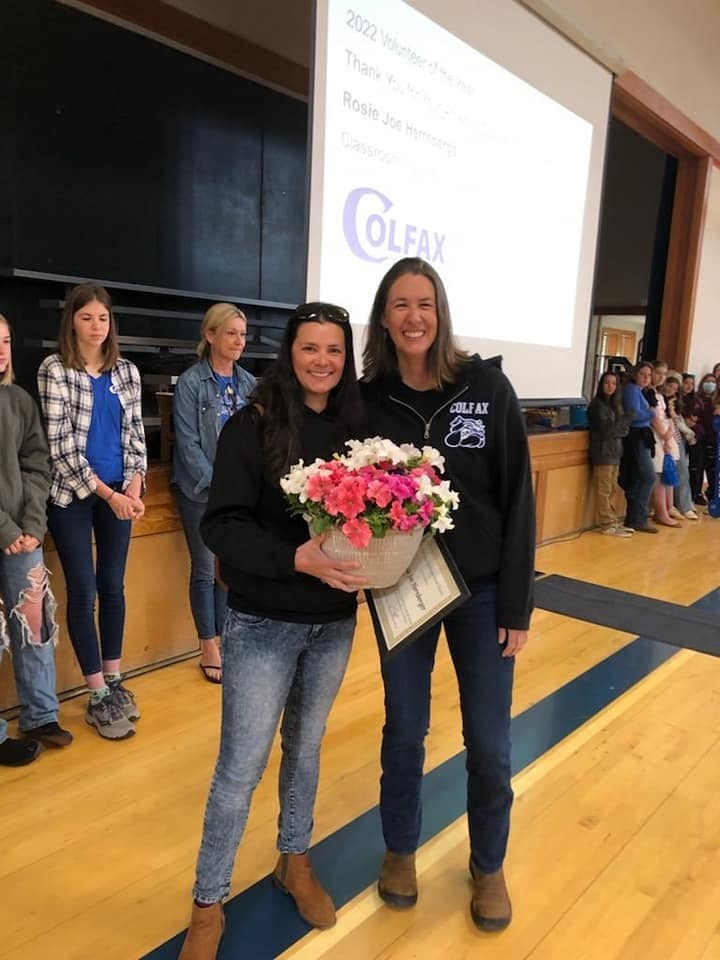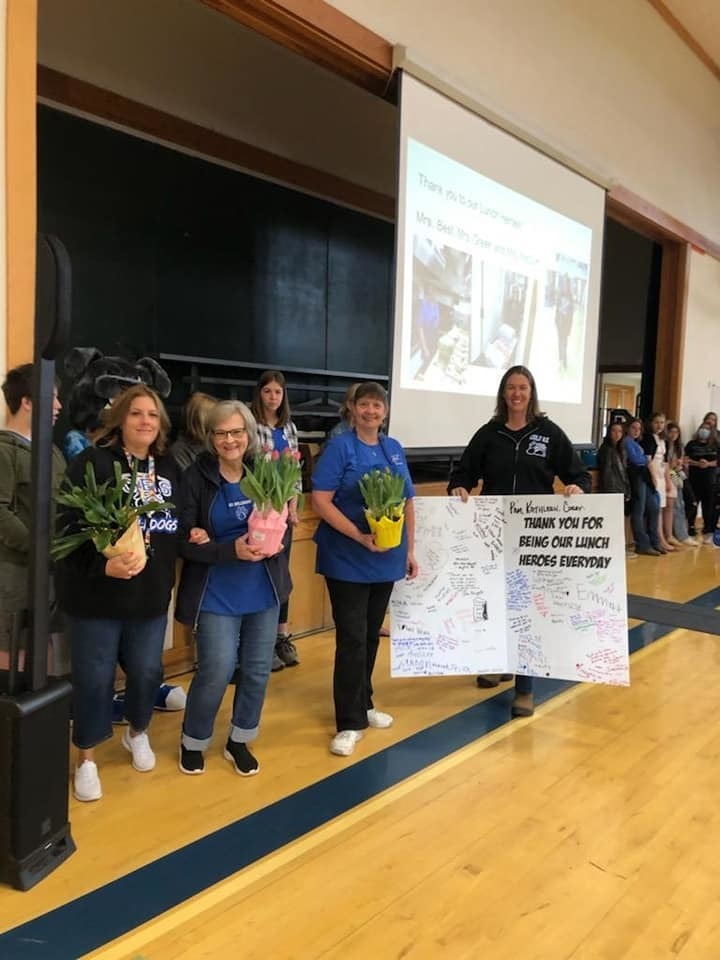 Mrs. Chaddock Teacher who makes a difference 2022, congratulations!